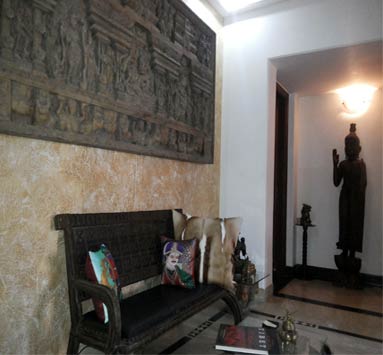 A cool and peaceful repose is all we are looking for, especially in a tropical country like ours. The super comfortable, artsy and out of the ordinary bedrooms of our guesthouse have some very antique architecture and provide ample impetus to cuddle, snuggle and sleep as comfortably as a baby. Not only that, king-sized antique beds add a whole charm and aura to the much coveted 'royalty' feeling, which India has always bragged about.

Our fully air-conditioned bed-rooms are well-set with super-comfortable mattresses made with the softest quality cotton and linen procured from local and international markets, depending upon the softness which is only to be compared to a baby's touch!

Lie down, have a much deserved nap, marvel the soft light which dimly shines in the interior, as you sit or lie down lazing, enjoying a drink, reading the book, or surfing the hi-speed internet.

In some places, you can enjoy your nudity without necessarily being given the 'eye'. Bathrooms are obviously that, when you can enjoy your private moments just the way you like it.

The Bold art-eye of our guesthouse, as said earlier contains amazing homo-erotic artifacts everywhere, and that goes for the bathrooms as well. Marvel on stone sculptured pieces of 'much endeared' human anatomy while you wash yourself away, probably with your partner! So, not only do we have those super-comfortable bedrooms that we vouch for, our en-suite bathrooms provide 24x7 hot and cold water all day long so that you can shower anytime you want.

Another highlight of our guesthouse is definitely the 'Nirvana Lobby' - we name it so because of the 'zen'-like effect it has on your senses. While you sit down on one of the luxurious couches, sipping a drink from the Honesty Bar/Kitchen or read a book of your choice - you are surrounded by aesthetic antics like the extremely rare 60 year old sculpture of Lord Vishnu and his incarnations, or the six-foot tall Buddha looking over you.

Get enthralled by the mystique of the atmosphere every evening, as the lobby is decorated with numerous candles and a swift fragrance rejuvenates your mind and body!

You'll be bowled over by the sumptuous breakfast spread that we lay down for you, freshly prepared by our gourmet chefs everyday! Soak in the goodness of fresh and all-health food and marvel at the crispiness with which your morning starts.

What's more - we serve our freshly prepared breakfast till noon. So, if you want to extend your lie-down, be our guest (pun-intended).

Be connected with the rest of the world, availing the free wi-fi facility that we provide all over the house.